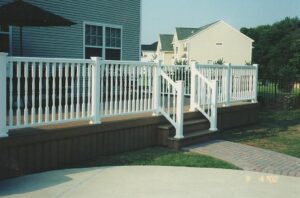 Bulloch Lawn Care and Contracting have been building Decks since August 1998. We started installing pressure treated wood and composite (Trex) decks and over the years have transitioned to mostly pvc decks. The frame is built the same, but the surface of the decking far outlasts its wood alternative.
There are many reasons for having Bulloch take care of installing your deck. We have done general contracting since 1998 and know all of the facets of construction of a home. For this reason we can spot possible issues that many without the experience will not foresee.
Your deck will be an extension of the home and needs to tie in to it with the proper connectors and flashing. Building Codes keep evolving as practices change to improve the safety of the completed product. New connectors are required that hold the deck frame secure to the home into the structure. This takes skill knowing how to properly install the brackets.
Deck designs have become more complicated as well. The size of the footing varies depending on the load of the structure above and takes skill to properly calculate.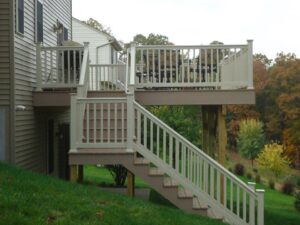 Thinking about the placement of items on your deck is vital to the design of your deck. Similar to designing a home we need to understand the traffic flow in the deck and account for a path to walk from the door to each set of steps. Many times people want steps placed in numerous spots around the deck, but don't consider that it limits the placement of tables, chairs, and grilling equipment on the deck. In this instance less is definitely more. Less steps makes more usable space on your deck. We consider all these things when assisting in the design of your deck.
Contact Bulloch Lawn Care for your deck install or next outdoor project.