Brick Paver Patios & Walkways [ Hardscape ]
There are many things to consider when planning a brick paver patio or walkway. Bulloch Lawn Care is here to help make the process easier for you. From planning to installation we have the years of experience from the first brick paver project we installed back in September of 1999 to now.
Brick pavers can be used in many areas of your property. We have installed pavers on the sides of driveways to make the driveway slightly wider and give it a decorative boarder. Paver patios can replace concrete patios for a more aesthetic appeal. They can also be used as pads at the bottom of a staircase coming down from your deck or as a walkway connecting the front and back yard or leading to your front door.
The design of each paver project is unique and suited to each individual property and owner. We have designed patios that incorporated retaining walls at the edge of the patio holding the patio and also holding back the ground from the patio. Natural stone products can be blended with man-made pavers or walls to tie the project to its surroundings. There are also many different shapes, sizes, and colors of brick pavers that can be used together to make a one of a kind outdoor oasis.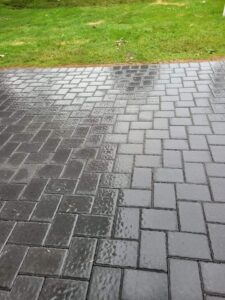 Special care needs to be taken during the installation of your brick paver patio. What you don't see below the surface is just as important as what you see at the top. We dig down a minimum of 8-9 inches from the finished surface of your new patio. After dig out the ground is tamped and slightly sloped away from your home to assure that any possible water under the patio is directed away from your home and not toward it. A modified gravel base is then installed and tamped and screenings are added above and screened off with a board to make a flat, almost level surface. Pavers are then laid in the pattern that best suits the property with bricks cut for the boarder as needed on a diamond blade saw. Plastic or reinforced concrete edging is then installed around the pavers to hold them in their position for many years to come. Lastly stone filings or polymeric sand is brushed into the joints and a final pass is made with the plate compactor to lock all of the pavers together.
Brick Paver driveways have a few differences from patios.  The main difference is that the base needs to 2-4 inches thicker depending on the soil conditions.  The increased weight of vehicles is what makes it necessary to increase the thickness of the base material to handle the extra weight of vehicles being parked on them.  One big benefit of having a brick paver driveway over having asphalt is when there is a oil or another type of spill the whole driveway doesn't need to be replaced.  Only the small affected area needs to be removed and replaced saving you money and time in repairs.
Bulloch Lawn Care has installed many paver patios and brick paver walkways over the years in the Mount Wolf and York Pa area.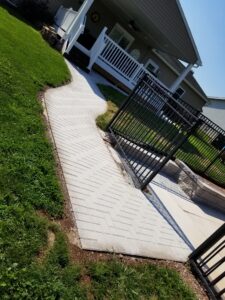 We have also repaired and leveled areas in pavers that others have installed. Recently we have also added re-sanding the brick paver joints to the list of Services that we provide.
Contact Bulloch Lawn Care for your next brick paver patio or other outdoor project.